2017 SAGE Awards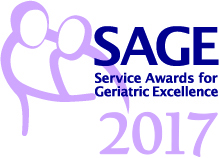 14th Annual Service Awards for Geriatric Excellence
Hamilton, ON – The Regional Geriatric Program central (RGPc) and St. Peter's Hospital, Hamilton Health Sciences are pleased to announce the winners of the 14th Annual Service Awards for Geriatric Excellence (SAGE).
SAGE is a unique program that celebrates the outstanding contributions of individuals and organizations committed to providing the highest quality of care to older adults in our communities to ensure they can age with optimal health, independence and dignity.
The awards were presented at the SAGE event on Thursday June 1, 2017 at Sarcoa Restaurant Bar, Hamilton, Ontario.
54 nominations were received from seven regions across Southern Ontario (Hamilton, Niagara, Haldimand-Norfolk, Waterloo, Wellington, and Halton).
Click here to view the 2017 SAGE Award Winners!
Click here to view the 2017 SAGE Award Nominees.
Special thanks for the RGPc Steering Committee for your outstanding contributions and expertise.