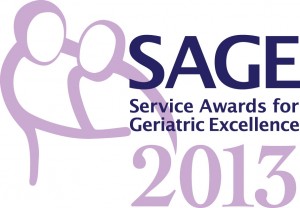 On May 24th, 2013 SAGE celebrated its 10th Anniversary at the Canadian Warplane Heritage Museum. The event was attended by 430 guests celebrating the achievements of 59 nominees from the regions of Hamilton, Niagara, Haldimand Norfolk, Waterloo, Wellington Dufferin and Halton.
We are very grateful to Dr. Christopher Patterson who acted as the Master of Ceremonies for the evening. He was charismatic, charming, and quick on his feet. Some may say he resembled James Bond!
Also a big thank you to Brian Melo who did an excellent performance of his songs alongside his musicians. He definitely enhanced the night with his music!
An event of this magnitude would not be possible without the support of many community and corporate partners and we would like to thank all of the sponsoring organizations for their generous support.
EXECUTIVE AWARD


JULIA BAXTER, MANAGER OF OUTREACH SERVICES, GERIATRIC PSYCHIATRY PROGRAM, ST. JOSEPH'S HEALTHCARE HAMILTON

Julia oversees the administrative, financial, and clinical activities of four regional teams across two Local Health Integration Networks and is perpetually reviewing the clinical effectiveness of how the programs serve the elderly and constantly strives to improve and build on the case managers and the programs capabilities and effectiveness. She also believes strongly in collaboration and works constantly to improve linkages with community partners such as the Alzheimer's Society, supportive housing, and hospitals to improve the quality of healthcare for the elderly. Julia is a passionate, compassionate, knowledgeable, and dedicated advocate for seniors healthcare.

INDIVIDUAL AWARD


ESTHER COKER, CLINICAL NURSE SPECIALIST, ST. PETER'S HOSPITAL, HAMILTON HEALTH SCIENCES

Esther skillfully and respectfully shares her extensive knowledge base and experience regarding best practice in seniors' care within the acute and complex continuing care settings. She demonstrates a wonderful balance between the demands of family, full-time work and PhD studies in the field of gerontological nursing. She has developed expertise in the area of oral hygiene for older adults, and had a paper accepted for publication in the Journal of Advanced Nursing. Her association and involvement in many professional organizations further demonstrates her commitment and dedication to the field of gerontological health care for those not only in Hamilton, but across the country.

INDIVIDUAL AWARD


DOUG RAPELJE, DIRECTOR OF SOCIAL SERVICES AND SENIOR CITIZENS DEPARTMENT, REGION OF NIAGARA

During his career, Doug established the first municipal 'Senior Citizens Department' in Canada dedicated to the provision of services for seniors both in long-term care homes and community care services. He recognized that long-term care was not the total answer, and advocated and provided leadership to develop a range of community services, some of the first in the Province, which became known as the 'Niagara Model' which is recognized across the country. He has been invited three times to Japan to meet with Federal Government Policy makers and provide lectures. Throughout his career, Doug served on many voluntary, non-profit Government and Public Councils, Boards, Task Forces and Committees, as well as received many awards for his significant contribution to his community and other organizations.

ROOKIE OF THE YEAR AWARD


STEPHEN COWELL, PERSONAL SUPPORT WORKER, ST. PETER'S RESIDENCE, CHEDOKE

As soon as Stephen started, it was evident that he truly internalized the values of the long-term care home by providing care with integrity, ensuring resident dignity, and maintaining a standard of excellence. He treats everyone like they are the most important customer and people feel special when they are around him. Stephen truly exemplifies dedication to caring for seniors and enhancing the quality of life for the residents and everyone they encounter each day.

VOLUNTEER AWARD
FLORINE COVE, VOLUNTEER, REGIONAL GERIATRIC PROGRAM CENTRAL & ALZHEIMER SOCIETY OF HAMILTON AND HALTON

Florine is the volunteer who is the epitome of what "Successful Aging" really is. At almost 80 years old, she rides horseback in all weather, works out 5 days per week, and stays active mentally through her volunteer duties. She is on a geriatric steering committee and has launched a geriatric education program in conjunction with the RGP and the Alzheimer Society.
Florine has completed over 640 volunteer hours since June 2010, and will be receiving a 500 hour pin. Her gentle, caring nature comes across in all of her interactions, with patients, staff, family members, and other volunteers.

TEAM AWARD


SHALOM VILLAGE PHYSICIANS TEAM, SHALOM VILLAGE, HAMILTON

Each of these individuals has clinical and academic activities that are excellent examples of their far-reaching impact on care of the frail and elderly. As a team, although they each care for different residents, they work collectively to support the nursing teams seven days a week, 24 hours a day and they are always compassionate and supportive no matter the question or concern. Through their academic and education focus, they are champions for utilizing best practices and evidence to help the resident achieve their best outcomes.

ORGANIZATION AWARD


DEMENTIA ALLIANCE, HAMILTON, HALTON, BRANT, AND HALDIMAND NORFOLK

The Dementia Alliance has a long list of community programs and services which includes: a falls education and exercise program; health and home care services to assist with activities of daily living; mental health and community crisis intervention programs; a chronic disease self management program; and much more. The Dementia Alliance also offers innovative education and information services such as a phone line and an online chat service to provide access to clinical experts, and a social media site which engages individuals, families, professionals and researchers in dialogue about the health care system and available resources.

Click Here

 for the complete list of 2013 SAGE Nominees
About the Service Awards for Geriatric Excellence…
The Service Awards for Geriatric Excellence (SAGE) is a joint initiative of the Regional Geriatric Program central (RGPc) and St. Peter's Hospital, Hamilton Health Sciences.
The program was introduced in 2003 to formally recognize the outstanding achievements of individuals and organizations who demonstrate excellence in positively influencing the quality of life of seniors and to highlight geriatrics as a critical area of health care. These unsung heroes work tirelessly so that seniors can live with independence and dignity in their own homes or communities. They also provide the highest quality of care for older adults in hospital and long term care.
This unique program is the only one of its kind in Ontario to celebrate the professional excellence of individuals and organizations that provide health care and community services for seniors and their families.