The Older Adult Programs and Services Database…
Is a joint project of:
Geriatric Access & Integration Network (GAIN)
Dementia Networks of Brant, Haldimand Norfolk, Halton, Hamilton and Niagara
In partnership with:
Community Information Hamilton
Halton Information Providers
Information Haldimand and Norfolk
Information Niagara
This database was developed to:
Act as a foundation for system-wide strategic planning and decision making with respect to gaps in service, duplication of services, areas for enhancement and development of new services for seniors in the Hamilton Niagara Haldimand Brant Local Health Integration Network (HNHB LHIN);
To provide quick and easy access to health and community support programs and services serving older adults in the HNHB LHIN;
Assist stakeholders to navigate the health and community services system;
Act as an educational tool to raise awareness across organizations.

Geriatric Access & Integration Network (GAIN)
GAIN is a network of 200+ stakeholders from across the HNHB LHIN representing various sectors of care and professional disciplines. The mission of GAIN is to facilitate the provision of quality care to seniors who have complexand chronic health issues, including health promotion and prevention strategies, through an interconnected network of health care services.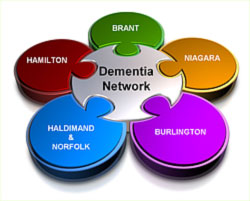 Dementia Networks
The Dementia Networks represent the regions of Hamilton, Nigara, Haldimand and Norfolk, Brant and Halton. The Networks serve as a vehicle to facilitate people and resources coming together to improve the system of care for people with dementia and their families, and to further develop a more coordinated and efficient system for service delivery, education and research related to dementia.