The Division of Geriatric Medicine, Department of Medicine, McMaster University and the Regional Geriatric Program central are honoured to present the 2013 Lifelong Achievement Award to Mr. and Mrs. Charles and Margaret Juravinski.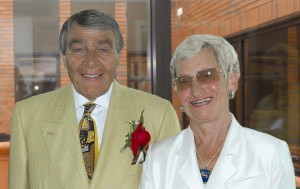 Margaret and Charles Juravinski
The son of Ukrainian immigrants, Charles Juravinski was born in 1929 at Blaine Lake, near Saskatchewan's Prince Albert.  His family moved to Hamilton early in 1940, where he worked in car sales and then in the construction industry. He eventually became a prominent developer of low and high density housing units. His business ventures also included a gas station and the Flamboro Downs racetrack which opened in 1975. In July 2002, he sold the racetrack to Magna Entertainment Corporation. In 1956, he and Margaret married and she has been at his side throughout. They are both well known in the Hamilton area for their philanthropic efforts.
Today the Juravinski's spend their time and money improving health care in Hamilton. They believe health is the most important thing people have and say there is nothing more fulfilling than knowing they are contributing to people's health.
Since 2003, Juravinski has become a household name in Hamilton and both Margaret and Charles have established themselves as strong leaders within this community. They've lead by example and encouraged others to give. In the process, they've also become a source of inspiration.