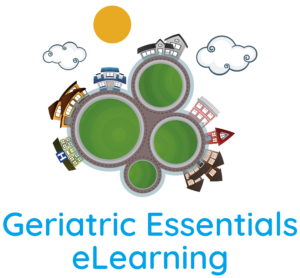 These open-access interactive geriatric learning modules are based on the Geriatrics interprofessional interorganizational Collaboration (GiiC) toolkit developed by the RGPs of Ontario (now Provincial Geriatrics Leadership Ontario). Users take on a senior character and follow their journey through the health system. Topics covered include:
Geriatric Addictions
Heart Failure
Falls
Medication Review
Frailty
Pain
Incontinence
Cognition
Depression
Delirium
Nutrition
Exercise
Advance Care Planning
Dementia and Sexuality (New)
The modules are freely accessible through the eLearning website here.
Geriatric Essentials eLearning is a course within the McMaster University endorsed Geriatric Certificate Program. The GCP is competency-based education for health care providers working with older adults that improves practice. To complete this course as part of the GCP, learners must access the modules through the GCP portal once registered as a student.