7th Annual Update in GERIATRICS
"Drugs and the Elderly: Balancing Risks and Benefits"
Wednesday November 29th, 2017
Liuna Station, 360 James Street North, Hamilton, ON
Featured Speakers:
Dr. Cara Tannenbaum, MD, MSc
Dr. Cara Tannenbaum, Professor of Medicine and Pharmacy, is the Director of the Canadian Deprescribing Network. She holds the Michel Saucier Endowed Chair in Geriatric Pharmacology, Health and Aging in the Faculty of Pharmacy at the Université de Montréal since 2008. She completed her internal medicine, geriatric specialty training and research thesis in Epidemiology and Biostatistics at McGill University. Dr. Tannenbaum conducted the EMPOWER trial, and is currently leading the DEPRESCRIBE trial, another Canadian trial to reduce inappropriate prescriptions in seniors. In 2013 she received the Canadian Institutes of Health Prize for Knowledge Translation in Aging. She continues to work as a geriatrician and older women's health specialist at the Institut universitaire de geriatrie de Montreal in Quebec.
Dr. Karin Neufeld
Dr. Karin Neufeld is a graduate of the University of Manitoba, School of Medicine in Canada. After completing a residency and fellowship in the Department of Psychiatry & Behavioral Sciences at the Johns Hopkins University School of Medicine and a Masters of Public Health degree at the Johns Hopkins Bloomberg School of Public Health, she joined the medical school faculty where she is currently an Associate Professor. Dr. Neufeld has held a number of clinical and leadership positions in the department and is currently the Clinical Director of the Department of Psychiatry at the Johns Hopkins Bayview Medical Center and the Director of the General Hospital Inpatient Psychiatry Consultation Service. Her primary area of academic and clinical interest is in improving delirium prevention and treatment strategies within the acute inpatient setting, with particular focus on the critically ill and older aged postoperative populations. She is the Chair of the Johns Hopkins Delirium Consortium, and Past President and ongoing Board Member of the American Delirium Society. Dr. Neufeld is a member of the Society for Critical Care Medicine and is serving as a delirium expert on the SCCM's guideline review group for the 2018 edition of the Pain, Agitation, and Delirium (PAD) Guidelines.
Register today at: http://www.fhs.mcmaster.ca/conted/geriatrics.html
Geriatric Education Bursary 2017/18
This year there are two educational bursaries up to a maximum of $500.00. The bursary will provide funding to attend geriatric focused educational events and/or courses to support learning needs and goals.
Call for applications have now CLOSED!
6th Annual Update in GERIATRICS
"Dementia, Delirium & Depression"
Wednesday November 30th, 2016
Liuna Station, 360 James Street North, Hamilton, ON
Featured Speakers:
Dr. Edward Marcantonio, MD, S.M.
Dr. Edward Marcantonio, MD, S.M. is a Professor of Medicine at Harvard Medical School and serves as Section Chief for Research in the Division of General Medicine and Primary Care at Beth Israel Deaconess Medical Center (BIDMC), where he leads the Division's Aging Research Program. He is an internationally recognized expert, clinical investigator, and thought leader in the field of delirium (acute confusion). Emerging research interests for Dr. Marcantonio include biomarker discovery for delirium, the role of inflammation and stress in the pathophysiology of delirium, and the interrelationship between delirium and dementia.
Dr. Sandra Black, MD, FRCP(C)
Dr. Sandra Black, MD, FRCP(C) is an internationally renowned cognitive and stroke neurologist who holds the inaugural Brill Chair in Neurology, Department of Medicine, University of Toronto and Sunnybrook Health Sciences Centre. A leading clinical trialist in dementia, she is the current Executive Director of the Toronto Dementia Research Alliance, a multi-institutional collaborative network of memory programs at the University of Toronto. She is also the Sunnybrook Site Director of the Heart & Stroke Foundation Canadian Partnership for Stroke Recovery and the Hurvitz Brain Sciences Research Program Director at Sunnybrook Research Institute.
Dr. David K. Conn, M.B., B.Ch., B.A.O., FRCPC
Dr. David Conn, MB, B.Ch., B.A.O., FRCPC is the Vice-President of Education and Director of the Centre for Education & Knowledge Exchange at Baycrest. He is a Professor in the Department of Psychiatry, University of Toronto. He is founding Co-Chair of the Canadian Coalition for Seniors' Mental Health and Past President of the Canadian Academy of Geriatric Psychiatry. His academic interests include nursing home psychiatry, telepsychiatry, guideline development and knowledge translation. He is the author or co-author of more than 100 publications and is the co-editor of three textbooks including "Practical Psychiatry in the Long-Term Care Home: A Handbook for Staff".
5th Annual Update in GERIATRICS
"Frailty, Falls & Fractures"
Wednesday November 25th, 2017
Liuna Station, 360 James Street North, Hamilton, ON
Featured Speakers:
Prof John Young, MB, BS (Hons), MSc, MBA, FRCP
Dr. John Young trained at the Middlesex Hospital, London. In 2005 he was appointed as Head of the Academic Unit of Elderly Care & Rehabilitation, University of Leeds, now one of the largest elderly care health research units in the UK. Current research work includes multi-centre trials in stroke, delirium and dementia care. Between 2001 and 2007 John was seconded to the DH to assist with the NSF for Older People. He is currently seconded to NHS England as National Clinical Director for Integration and Frail Elderly.
Vicky Scott, RN, PhD
Dr. Vicky Scott is a Clinical Associate Professor with the School of Population and Public Health in the Faculty of Medicine at the University of British Columbia. Dr. Scott is an Osteoporosis Canada Advisory Board member and sits on the Osteoporosis Scientific Advisory Committee. For the past fourteen years Dr. Scott served as the Senior Advisor on Fall and Injury Prevention with the BC Injury Research and Prevention Unit and Ministry of Health. She is also the National lead for the Canadian Falls Prevention Curriculum.
4th Annual Update in GERIATRICS
'Update in Dementia'
Wednesday December 3, 2014
NEW LOCATION – Liuna Station
360 James Street North, Hamilton ON
Featured Speakers:
Susan L. Mitchell, MD, MPH
Dr. Mitchell is a Geriatrician and health services researcher, a Professor of Medicine at Harvard Medical School and Senior Scientist at the Hebrew Senior Life Institute for Aging Research in Boston.
Serge Gauthier, MD, FRCPC
Dr. Gauthier is the Director of the Alzheimer's Disease Research Unit. He completed his medical studies at the Université de Montréal and specialty training in Neurology at McGill University, followed by a Medical Research Council of Canada Fellowship in Neurochemistry at Professor Ted Sourkes' laboratory.
Mary Beth Wighton
At the age of 45, Mary Beth Wighton was diagnosed with probable frontemporal dementia which has no treatment or cure. Mary Beth will share her insights with living well with dementia.
2013 Program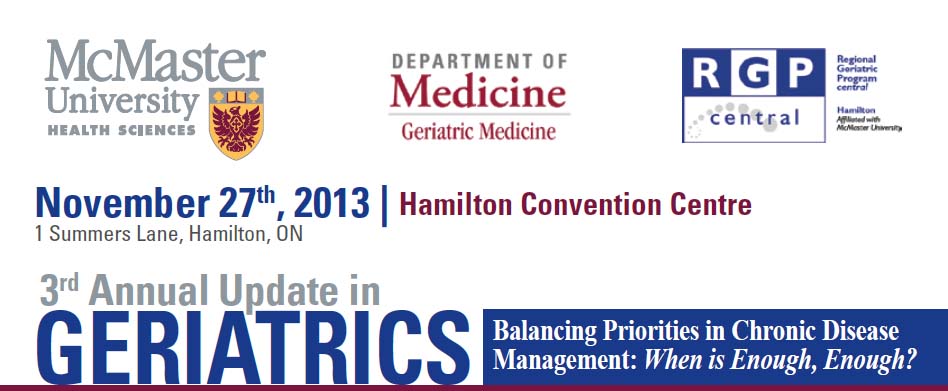 In this 3rd Annual CME event, participants will acquire edicdence-based and practical approaches to chronic disease management in older adults. Chrinic conditions presented will include: COPD, heart failure, falls and fractures, diabetes, dementia and constipation, all of which lead to a significant change in health status and increase risk of frailty in older adults.
We are pleased to highlight some of our expert speakers:
Audrey Chun, MD. Associate Professor Geriatrics and
Palliative Medicine Mount Sinai
Hospital, Director at the Martha StewartCenter
for Living, New York, NY.
Paul O'Byrne, MB, FRCPI, FRCPC,
FRCPE, FRCP (Glasg)
Professor, Division of Respirology,
Department of Medicine Chair,
Department of Medicine, McMaster University
Medical Centre St. Joseph's Healthcare
Hertzel Gerstein, MD, MSc, FRCPC
Professor, Department of
Medicine, Department of Clinical Epidemiology
and Biostatistics McMaster University
2012 Program

In this 2nd Annual CME event, participants will acquire evidence-based approaches to important topics in caring for older adults in a variety of health care settings. Presenters will address key tipping points such as delirium, deconditioning, falls, post-operative complications, medications, dementia and responsive behaviours that can lead to a significant change in health status and increase risk of frailty for older adults.
We are also very pleased to present three world renowned experts in geriatric care and research:
Sharon K. Inouye, MD, MPH, Professor of Medicine, Harvard Medical School – Developer of the Confusion Assessment Method (CAM) and Hospital Elder Life Program (HELP)
David Sackett, OC, FRSC, BA, MD, MSc, FRCP, Professor Emeritus, Clinical Epidemiology & Biostatistics – Pioneer of Evidence-Based Medicine.
Paul Katz, MD, Vice-president, Medical Services and Chief of Staff, Baycrest, Professor of Medicine, University of Toronto – Recognized across the world as a leader in the long term care field.
Submit your abstract – 2 posters will be selected for an award!
Submission deadline: October 3, 2012
Registration opens September 2012.
2011 Program
The Divison of Geriatric Medicince, McMaster University and the Regional Geriatric program central hosted our inaugural education day on November 30, 2011 at the Hamilton Convention Centre. The theme of the day was Drugs & the Elderly: too many or too few?
Experts in geriatric medicine, geriatric psychiatry and pharmacy addressed a sold out croud of close to 300 on evidence-based drug treament approaches for elderly patients with common geriatric health problems, the principles of appropriate medication use for older adults and the clinical dilemmas in prescribing for elderly patients wtih complex health problems.
To view the full program click here.
Geriatric Education Day Planning Commitee and Presenters
Geriatric Education Day Planning Committee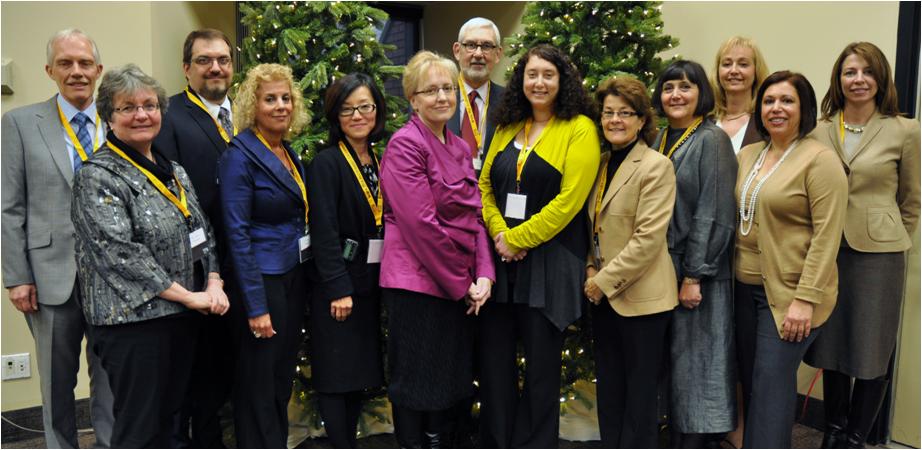 From left: David Jewell, Anne Pizzacalla, Dr. Brian Misiaszek, Dr. Anne Braun, Dr. Sharon Marr, Dr. Sharon E. Strauss, Dr. Christopher Patterson, Dr. Lisa Dolovich, Dr. Michelle Gagnon, Dr. Karen Saperson, Dr. Nadia Plach, Dr. Alexandra Papaioannou, Anisha Chohan.