About RGPc
What is the RGPc?
The Regional Geriatric Program central (RGPc), located in the Juravinski Research Centre at St. Peter's Hospital in Hamilton. The RGPc is one of eleven regional geriatric programs located in Ontario:
North East Specialized Geriatric Centre
North West Specialized Geriatric Services
RGP Central
RGP Toronto
RGP of Eastern Ontario
Seniors Care Network (Central East)
South East Specialized Geriatric Services
South West Specialized Geriatric Services
Specialized Geriatric Services Mississauga-Halton
North Simcoe Muskoka Specialized Geriatric Services
Specialized Geriatric Services Waterloo Wellington
All RGP sites are affiliated with Academic Health Sciences Centres. The RGPc is affiliated with McMaster University and hosted by Hamilton Health Sciences. The Regional Geriatric Program central provides programs to three LHINS: Waterloo Wellington, Hamilton Niagara Haldimand Norfolk Brantford and Halton.
In its guidelines, the Ministry of Health has defined a regional geriatric program as:
"a comprehensive, coordinated system of health services for the elderly within a region" with the objective of: "assisting the elderly to live independently in their own communities thereby preventing unnecessary and inappropriate institutionalization."
Mission
Promote a system of health care that optimizes the health, independence and quality of life of frail seniors based on evidence-informed practices.
Vision
All frail seniors will have optimum health and will have access to specialized geriatric services.
Specialized Geriatric Services (SGS)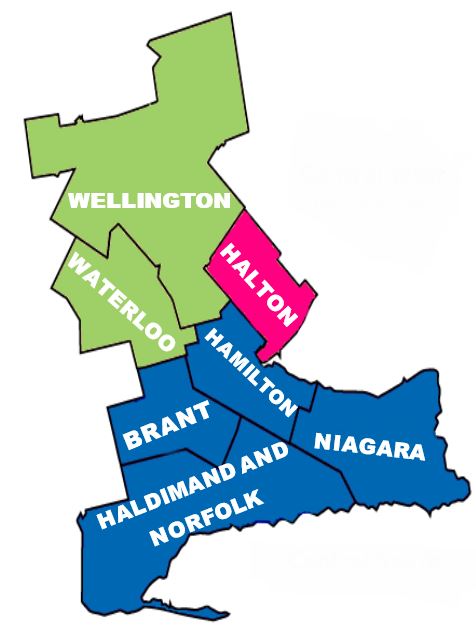 A range of specialized geriatric services are offered across three LHIN areas (Hamilton,Niagara Haldimand Brant [4]; Waterloo Wellington [3]; and Mississauga Halton [6]), including specialized geriatric assessment, short term treatment and rehabilitation services provided by interdisciplinary teams with expertise in the care of frail seniors, across the continuum of care. Most programs have a range of health care team members, including a specialist in geriatric medicine and/or psychiatry.
The goal of SGS is to provide comprehensive assessment and treatment plans that will optimize care planning and promote increased confidence and independence. The family and community supports, the need for advocacy to help effect positive change and the need to communicate planning needs clearly with family doctors are considered in all stages of planning.
Areas of Focus
Education and Capacity Building

Knowledge Exchange and Translation

Service Improvement

Collaboration

Research and Evaluation